M. Everett Rood
Biography
I have always enjoyed reading books, and at various times I explored writing but not too seriously. One day a story that I decided I wanted to tell pressed upon me and wouldn't let go, so I started writing and editing, and then there was more writing and editing. After a lengthy period that included indispensable help from my extremely talented editor, my book was finally ready to share with everyone. I hope you enjoy reading it.

I have a wonderful wife and two, equally-wonderful children, who have been supportive of me as I worked on completing this book.
Books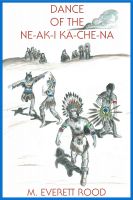 Dance of the Ne-ak-i Ka-che-na
(4.00)
Newspaper reporter Michael Jones left the busy life of Chicago for a small town in the Mid-West, but the slower pace he sought is tested by taunting, unexplainable nightmares. Hunting for answers, his faith and understanding of God is challenged. His search collides with and becomes entangled in the investigation of a child trafficking conspiracy and ends as a lesson in how God answers prayers.
M. Everett Rood's tag cloud