Kacy O'Brien
Biography
I get to wake up every morning and look out over Los Angeles towards the mountains. I know I am lucky, and every day I am grateful for the life that I get to live.

It wasn't easy, and maybe that's why I appreciate it so much. Two years ago, just nine months after my wedding, I was diagnosed with cancer. Eight months after that, (and fifteen pounds lighter) I emerged from a chemotherapy haze and counted up the books I had read on my e-reader during recovery. Ninety-seven.

I am a television addict and live by my DVR. I think Sherlock Holmes on Masterpiece Classics is the best show no one is watching and I have not missed any episodes of Downton Abbey, Mad Men, True Blood or Mob Wives (like a hundred percent!).

I am also completely obsessed with anything royal and challenge anyone reading this to tell me something I don't already know about the Tudor family. I recently discovered that my gazillion times great-grandfather was the constable of the Tower of London during Henry VIII's reign. But I am also not totally positive that I tracked the right predecessor on Ancestry.com.

My family, to whom I owe all my strength and courage, live in fifteen different cities. You can imagine what my phone bill must look like. My handsome hubby Kirk and I were married on California's Central Coast, where my first books, The Edges Series, are set. During our wedding ceremony he promised to always love and take care of me, our golden retriever, Sam, and our seventeen year old collie mix, Jessy.
Books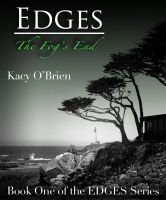 Edges: The Fog's End (Book One of the Edges Trilogy)
by

Kacy O'Brien
A surprise inheritance has made Tabitha Colgan, 17, and her father, Jack, the newest residents of a quaint little seaside town. But their new community lives in a fog, haunted by ghosts of generations past, the witches who cursed them all, and Shadows that hunt in the night –– sinister forces that will never let them leave... alive.
Kacy O'Brien's tag cloud