Kamlesh Choudhary
Biography
Kamlesh Choudhary is a big time dreamer. His biggest dream is mother earth back to nature. He wants to service the planet and help purify it on a grander scale through his books. he feels that earth is not to be usurped by mankind alone…for space, comfort, laughter and tears. It is a place equally for all its aboriginal flora and fauna. He believes that all our conduct should be in sync with habitat-for-humanity…wherein, humanity does not necessarily mean humans. Kamlesh, through this novel, wants to share his experience of special forces that act continuously on all of us, all the time, and their effects on one's life and goals. Kamlesh has been an All India Radio Artist in hindustani Classical Music Instrumental. He has been an awardee of National Talent Search Scholarship award by P&HRD Ministry, Government of India in 1988 in Indian Classical Music-Instrumental. He has also been awarded the certificate of appreciation in First Asia Pacific English Presentation Contest, Fukuoka, Japan 1998.
Books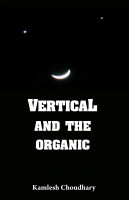 Vertical and the Organic
by

Kamlesh Choudhary
"Vertical and the Organic Keshav; born in the majestic land of Ranipur village, was another nobody when something hit him early on. What was that? Did it originate from the white soil of the village, the aural sun, or the smiling moon? "
Kamlesh Choudhary's tag cloud