Cesar Carrasco
Biography
I would like to thank you for your interest in taking the first Steps to Success in learning a second language. My educational background consists of having a bachelor's and master's degree in education, a teaching credential, and a credential in special education. I began my career in the educational field in 1991 and since then, I have taught Kindergarten through 12th grade, Adult Education in the areas of English as Second Language (ESL) and High School subjects, and helped high school students and adults to obtain their high school diploma. I am currently an elementary principal and have 14 years' experience in the administrative field. I continue to support high school students to obtain their high school diploma and continue assisting adults in refining and helping them with English Language Development. My extensive experience teaching English as a Second Language has enabled me to streamline teaching practices in the English Language.

My motivation for writing Steps to Success Volume I and Steps to Success Volume II along with Reference Guide Cards and DVDs is due to having worked for many years in communities where there is a need to strengthen the English skills as a second language.

My goal in Steps to Success Volume I is to assist you to become more knowledgeable with English skills by learning the rules and the function of nouns, pronouns, verbs, adjectives, and prepositions so you can apply this knowledge to your writing skills. I am very confident that this ebook, which is also available in hard copy, will help you to build and strengthen your vocabulary skills and listening skills. If you are interested in pursuing this practice by obtaining the hard copy of this book, you will receive approximately 14 DVDs that will assist you with your pronunciation skills to become more successful in conversing with others. As you begin to work with this workbook, make sure that you take the Pre and Post Tests to set a benchmark that will show your progress as you work throughout this workbook. I am confident that the extensive amount of exercises that are shown in Steps to Success Volume I will ensure that you build comprehensive English skills.
Books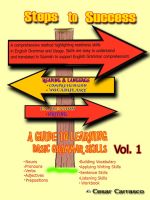 Steps to Success Volume I: A Guide to Basic English Grammar Skills
by

Cesar Carrasco
The purpose of using the workbook Steps to Success is to enable people to improve their English Language Skills. Building self-confidence improves personal growth in all areas of life, such as professional, social, and academic. Steps to Success will provide a comprehensive guide in building successful language skills using detailed and descriptive exercises.
Cesar Carrasco's tag cloud