Kannan Feng
Biography
Kannan Feng lives next door to Lake Michigan and her current interests include mushroom recipes, deconstructing superheroes, oracles and the Byzantine Empire. She has been previously published in Strange Horizons, Alien Skin, Ruthie's Club, and Oysters and Chocolate. "The Lord of Misrule" originally appeared in the Circlet Press anthology Kneel to Me, and other stories of hers have appeared on circlet.com and in other Circlet projects. She will welcome great fortune and love in the new year (in bed) and her lucky numbers are 5, 8, 22 and 19.
Where to find Kannan Feng online
Books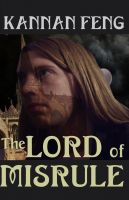 The Lord of Misrule
by

Kannan Feng
Verity Fen is a promising young sorcerer at the Atia Selene university. Wealthy & attractive, he seduces his fellow students and breaks their hearts, until he falls for his own servant, Iskander, whose leather belt is a match for Verity's attitude. Their bed games grow steadily more intense, until an undead sorceress threatens to come between them forever. Can Iskander's love save his master?
Kannan Feng's tag cloud