K.A. Ross
Biography
Some say a picture can be worth.... you know the rest ! I hope you do, If not, google it ! Well, so can words, can't they? I know that's kind of redundant but, so is life. We wake up, we eat. Well some of us, more than others, Guilty as charged !! We run off to work, we eat, sleep ! Wash, rinse, spin. The norm of everyday life, I guess. As a new author, born and raised in Southern California, I've always wanted to inspire somebody, anybody with my books to break the cycle, no pun intended ! As a CSUSB graduate, I know that words can motivate. Knowledge gathered by reading becomes an asset in itself because it expands horizons by introducing new ideas, these new ideas can inspire. Read and aspire to be something great !!!
Books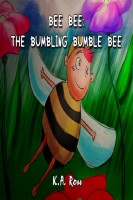 Bee Bee: The Bumbling Bumble Bee.
by

K.A. Ross
Bee Bee the bumbling bumble bee loved to buzz around busily. But, to his dismay, he lost something that he loved more than flying. His stripes. For any Kids who has ever lost something they love.
K.A. Ross' tag cloud