Kara Ripley
Biography
Kara Ripley is the romance-writing alter ego of Australian sci-fi and fantasy author, Rebecca Langham. Even though she's named after two iconic sci-fi characters, Kara reflects Rebecca's inner romantic, that part of her secretly wanting to leave the aliens, magic, and spaceships behind every now and then.
Where to find Kara Ripley online
Books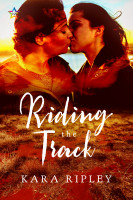 Riding the Track
by

Kara Ripley
Herding cattle and drinking Australian beer aren't pastimes that particularly appeal to an 'indoor girl' like Clara, but she'd be damned if she'd let her cheating ex-boyfriend have the vacation they were meant to share. So, to salvage some piece of her self-respect after a bad break-up, she finds herself riding a horse along the Oodnadatta Track for five days.
Kara Ripley's tag cloud