Karena Akhavein
Biography
Christina Desroches' academic passion stems from my own: I used my research, as well as my own original- and first ever- translation of La Vida de Santa Enimia by Bertran de Marseille, from my PhD thesis "Reman say in aquesta terra": The function of translatio in the Occitan Vita of Saint Enimie, (Columbia University, 2002) to drive the action. I am currently working on my second novel, Lacrima Dyonisi, a thriller exploring the link between wine and the sacred, featuring some of the same characters. I occasionally like to drag my nose out of dusty tomes in order to enjoy my parallel existence as a painter-illustrator and a fashion, food, wine, and travel writer whose work has appeared in SOMA Magazine, BEast magazine, globorati.com, and Quintessentially Magazine, among others. I currently live in Northern California with my husband, two children, and two dogs.
Where to find Karena Akhavein online
Books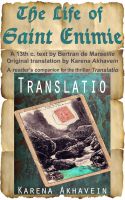 The Life of Saint Enimie. A 13th c text by Bertran de Marseille. Original Translation by Karena Akhavein. A reader's companion for the adventure novel Translatio
by

Karena Akhavein
The Life of Saint Enimie, a 13th c text by Bertran de Marseille, comes to life as translated by Karena Akhavein, PhD. Fascinating in its own right, this translation serves as a reader's companion for the exciting action adventure Translatio, by Karena Akhavein. Readers can choose to read this fascinating Merovingian princess' life on its' own, or refer back to it while reading Translatio.
Karena Akhavein's tag cloud