Karl Taylor
Biography
Karl Taylor is a married father of two grown children and two dogs. He has worked in many fields (mostly factories) during his lifetime and has been writing most of his adult life. His path to writing started when he began playing Dungeons & Dragons. The game woke up his creative side, quickly led to him creating his own world (complete with maps and populated with fantasy creatures), and has dabbled with writing every day since. His biggest influences are J.R.R. Tolkien, Glen Cook, and Terry Pratchett. He lives in a small town in north Texas.
Books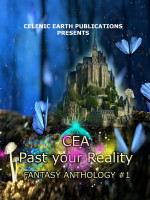 CEA Past your Reality Volume 1
by

Celenic Earth Publications

,

Shaun Jooste

,

Dean Clark

,

Janika Hoffmann

, &

Karl Taylor
The latest Celenic Earth Anthology brings you fantasy short stories from five different authors, featuring mythical creatures, supernatural powers and powerful battles.
Karl Taylor's tag cloud