Gloria Hayes
Biography
I live with my husband in Campbell, California, USA. Whenever I receive greeting cards, notes, letters, etc., from family members, relatives and friends, I notice that most often they sign off with either the words "I love you" or "Love". I would always ponder on the card and in my mind try to come up with words or phrases that could have been used to convey the same loving message, while replacing the words of "I love you" or "Love". Later, I would log my thoughts and entries into my binder. I have maintained this binder for a number of years. A year ago, on the insistence and encouragement of my daughter, I decided to do something with this log and so started to format these entries into an eBook, which finally resulted in Over 350 Ways To Say I Love You.
Books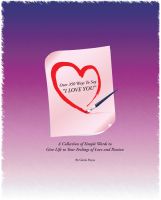 Over 350 Ways To Say I Love You
Over 350 Ways To Say I Love You..a personal treasure trove of simple words to express intimate emotions of love,shared by most people—but yet,unsaid by most people.It is a resource that will help to truly express the echoes of your heart.Use it to add to notes,greetings cards,or just say it face to face in a gentle whisper.It will truly help to put passion back in your life; a precious keepsake!
Gloria Hayes's tag cloud