Kassandra McGhee
Biography
Kassandra McGhee is The Voice to hear in inspirational books, music, and evangelism and teaching. Kassandra is the author of several books including The Fight to Love, Revelations from God and The 10 Commandments of Career Success. She is the Founder of Power 4 Living International Ministries and is also the notable Chicago Career Coach, with experience in hosting inspirational radio programs, counseling and administration. Kassandra released her debut CD project "Completely", a compilation of her original songs of praise and worship. She is a graduate of Iowa State University where she earned her Masters degree in Sociology and a Bachelors degree in Psychology.
Where to find Kassandra McGhee online
Books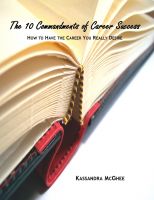 The 10 Commandments of Career Success: How to Have the Career You Really Desire
By
Kassandra McGhee
Price:
$1.99 USD.
Words: 6,700. Language: English. Published: July 17, 2012. Category: Nonfiction
Join renowned author and career expert Kassandra McGhee as she shares the essential principles of career success including how to create your memorable personal brand, defining your vision and how to be power-focused. The 10 Commandments of Career Success is a must-read for anyone looking to advance their career to the next level. You can have the career you really desire, if you know how!
Kassandra McGhee's tag cloud