Kate Faraday
Biography
Kate Faraday currently works overseas as a mental health professional for the U.S. military. In 2012 she studied undue influence as it relates to cult recruitment, and in 2013 she was lowered into a volcano in Iceland. She enjoys art glass, sleeping, popsicles, eBay, photography, baths, the work of Daniel Danger, long walks, chocolate milk, and rum, not necessarily in that order.
Smashwords Interview
Books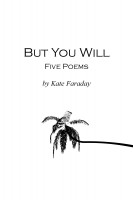 But You Will
by

Kate Faraday
How a family deals with its "too much" child determines the weight of her emotional inheritance. These five poems chart one daughter's struggle to articulate and break the mundane taboos of a joyless suburban family. Her survival and escape are sometimes wrenching but mostly sweet, funny and inspiring.
Taste Changes with Fever
by

Kate Faraday
War and Love are grand themes, too big for any work to hold. These six poems personalize some of the complexities and examine their impact both within the emotional landscape and from outside it. Sometimes funny, sometimes bleak, Taste Changes with Fever is a look into hidden corners of modern thinking.
Kate Faraday's tag cloud