Kate Haley
Biography
Kate Haley is a New Zealand author born and raised in Wellington city. She has a Bachelor of Arts in film studies and English literature and is completing a complementary film degree with Honours at Victoria University in Wellington. Her first published work 'Blackmoon' was originally written as a ten page short story when she was 12, and the dedication in the front of the book is for the teacher who inspired her to write.
Her second book due out later this year 'Star Stained Moon' has no narrative relation to 'Blackmoon' and there is not a thing about moons. People keep asking, but it was just a coincidence that the two books with 'moon' in the title happened to be finished first.
Hopefully her third book 'Steel and Stone' will also publish later this year, but the pressures of finishing a degree come first at the moment. She doesn't plan to go back to do a fifth year of university which bodes well for the completion of other books, but she didn't plan on going back for a fourth year either and look what happened.
Books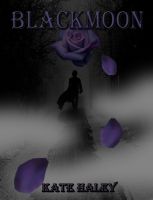 Blackmoon
by

Kate Haley
(4.50 from 2 reviews)
A group of teenagers find themselves in danger when they investigate the forbidden blackout zone of their small town and discover more than they bargained for. The shadowy depths of Blackmoon hide the mysterious Lee Blackmoon and his cursed family. But things are not what they appear. And Lee's sinister father James hides dangerous secrets in the black stone house at the end of the dead road.
Kate Haley's tag cloud