Mars Dumont
Biography
Mars Dumont was born in Poona, India. His father was an endocrinologist, and research grants took his family to Mexico City, Silicone Valley, Stockholm, Ann Arbor, and finally New York City. After graduating from the Bronx High School of Science, Mars traveled around Europe, spent some time in London and Prague, and finally landed in Florence, where he studied art and art history. He finished his undergraduate studies at Columbia College, with a major in art history and a minor in physics, and then got a Masters degree at Columbia's Graduate School of Architecture. Mars then spent many years doing architecture as a day job and playing electric guitar (for The Shameless Sycophants, Dark Blue and Linoleum Blownapart) at night, in clubs ranging from CBGB's to the Knitting factory. Mars holds a black belt in Tae Kwon Do and an Elder Brother rank in Tiger Claw Kung Fu. He dabbles in the mysteries of Astrology and Tarot and draws on the archetypes to develop the characters in his books. Mars Dumont speaks five languages: Czech, French, Spanish, English and Italian. Remaining creative is, as far as Mars is concerned, the most important thing in life.
Where to find Mars Dumont online
Books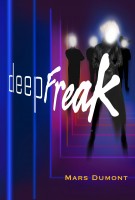 deepFreak
by

Mars Dumont
A magical mystery tour of virtual reality and beyond. Love, politics, conspiracy, and fluctuating space-time coordinates all come to a head when a huge solar flare disrupts the event horizon between parallel universes. Living in simulated reality, SIM, is all the rage in the future, but just when it seems that illusion has triumphed and Reality has become irrelevant, Reality throws a curve ball.
Mars Dumont's tag cloud