Kaushik Jethva
Biography
Kaushik Jethva is a human residing on planet Earth in this vast universe. He prefers his unique and peculiar manner and started his dream project — 1 Life : 7 Ways — when he was fifteen. After celerity of life in unforeseen sequences, at last he stopped thinking and started working on his fictions. He insists his adolescence is full of misunderstandings and mistakes which made him strong. Having authored his debut novel "Suicide: There is a way", he feels he has learnt in stages, enhancing his creativity as a writer.
Books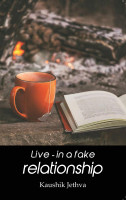 Live-in a fake relationship
by

Kaushik Jethva
" … It's a curse to strong relationships, hardcore dreams and energetic lives. Marriage is living in a fake relationship." So says an unknown woman in the dreams of Kabir Virdi, torturing him, blaming him as one of the reasons behind her death.
Kaushik Jethva's tag cloud