Kavitha Govindasamy
Biography
Curriculam Vitae

1. Name Dr. (Tmt). P.G.Kavitha

2. Husband's name Mr. K. Srinivasan

3. Postal address for correspondence : Department of Nematology
Tamil Nadu Agricultural University
Coimbatore – 641 003

4. E-mail kavitha_nem@yahoo.com

5. Permanent address
Kovaipudur,
Coimbatore- 641 042


6. Community & Caste OBC


7. Marital Status
Married
8. Academic record

S.
No. Degree Period of Study
From - To Board/University/ Institute Subject Marks (%)
1. B.Sc
(Agriculture) 1995-1999 Tamilnadu Agricultural University, Coimbatore Agriculture First class
(85.3 %)
2. M.Sc
(Agriculture) 2003-2005 Tamilnadu Agricultural University, Coimbatore Plant Nematology First class
(98.4 %)
3. M.S
(Agriculture) 2005-2007 University of Florida, Gainesville,USA Entomology and Nematology 3.97/4.0
First class
(99.3 %)
4. Ph.D
(Agriculture) 2010-2013 Tamilnadu Agricultural University, Coimbatore
Plant Nematology First class
(93.9 %)

9. Scholarships, Medals, Fellowships, Awards, Distinctions or Honors received during University/academic career

Medals
Type of medal Year Name of the award Place

Gold 2005 Highest OGPA in M.Sc (Ag) of 2003-2005 batch Tamil Nadu Agricultural University, Coimbatore

Fellowships
Name of the Fellowship From To Place

Graduate Research Assistantship Aug 2005 May 2007 University of Florida, Gainesville, USA

Student Senior Research Fellowship June 2011 May 2013 Tamil Nadu Agricultural University, Coimbatore

Awards
Year Name of the Award Description Place
Feb 2005 Best oral presentation Global Eco meet on Sustainable Agriculture- PRITHVI 2005" Feb 20-25, Thiruvananthapuram, Kerala, University of Florida, Gainesville, USA
June 2005 Dr.Abdul Kareem Award Best student in Plant Protection Studies,
Tamil Nadu Agricultural University,Coimbatore
June 2005 Dr. Balaraman Award Best student in Plant Protection Studies,
Tamil Nadu Agricultural University, Coimbatore

March 2006 Outstanding achievement award Best international student securing highest OGPA
University of Florida, Gainesville, USA
Oct 2011 Best oral Presentation Sixth National Symposium on "Noni-A Panacea for Wellness" 1-2 Oct
Chennai
Oct 2012 Best oral Presentation Seventh National Symposium on "Noni - The tool for wellness"6-7 Oct Chennai
Books
Biosurfactants- Novel Applications in Crop Protection
by

Kavitha Govindasamy
Biopesticides derived of microbial origin a less harmful, consistent and biodegradable thereby avoid the pollution problems caused by the conventional pesticides. Biosurfactants can satisfy the needs of the modern market in natural products, particularly surface-active substances of new generation which are effective and ecologically safe.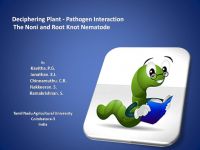 Deciphering Plant -Pathogen Interaction - The Noni and Root Knot Nematode
by

Kavitha Govindasamy
Interaction between noni and root knot nematode was extensively studied to understand the host- pathogen relationship. Histopathological studies revealed the dislocation of vascular bundle. The nematode produced most of the egg masses inside the roots unlike in other plants.Translucent spherical granules seen inside the root gall was responsible for tissue abnormality and gall formation.
Kavitha Govindasamy's tag cloud