Kayleigh Foland
Biography
Kayleigh Foland writes to calm the storm that's constantly raging inside her head. Emotions, thoughts and ideas chase each other in whirling dizzying patterns behind her eyes. Sometimes, it gets out of control and she loses herself in the chaos. In order to prevent this, she orders these things; pokes and prods them until they finally fall into line. Then, she forces them into existence. She writes them down to make them tangible, real. Since part of their power was put into the written words what's left inside her isn't as strong. It's harder to lose yourself on a cloudy day than inside a hurricane, after all. Writing is her safety net, her lifeline and her outlet. It keeps her tethered to reality while letting her explore infinite possibilities and even some impossibilities.
Books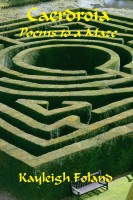 Caerdroia: Poems to a Maze
by

Kayleigh Foland
We all know that Life is a maze of twisty little passages, all alike. The thirteen poems in this collection explore those passages. Asking questions about the future, making statements about the present and looking around the corner to the past. Lurking in these passages are such terrible monsters as homicidal felines, blank pages and a premature Christmas.
Kayleigh Foland's tag cloud