Kevin R. Beck
Biography
"A Seed from the Tree" stems from two of the passions in my life. I love the scriptures, and I thoroughly enjoy teaching. In the spirit of sharing, as a teacher does, I wanted to make available to others the moments of joy, understanding, strength, and peace that have come to me over the years as I studied the Book of Mormon. My love for the Book of Mormon grew out of my service as a full-time missionary for The Church of Jesus Christ of Latter-day Saints, teaching the people in Kansas, Missouri, and Oklahoma. Since then assignments for service in the church have almost always been as a teacher. I have served as a teacher in Primary (for children ages 3 to 12), Sunday School (in a number of classes and for a variety of age groups), priesthood quorums, stake Institute, and in other capacities in which teaching was a primary responsibility, including as a ward missionary, as a counselor in two stake presidencies, and as a bishop.

Though I grew up in central Utah, I have made my home in Maryland for over twenty years. My father was a rancher, and my growing-up years were blessed with many, many hours and days in the beautiful outdoors, with an assortment of physically demanding jobs and time to think and ponder in the stillness of nature. I now commute 45 miles to work every day, which typically takes an hour and 40 minutes each way. Many days I find myself fondly remembering those childhood and adolescent years filled with great experiences, many of which at the time came disguised as hard work.

I have been happily married for 29 years to an amazing and lovely woman. Our lives have been blessed and filled with seven wonderful children, two of whom through marriage, a beautiful grand-daughter, and one goofy dog.
Books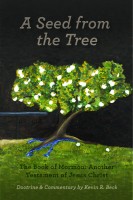 A Seed from the Tree
by

Kevin R. Beck
Doctrinal commentary on the Book of Mormon, reviewing and analyzing the principles presented in this ancient book of scripture. There is a "deep dive" into key passages, with discussion of how to apply these doctrines to improve our lives, and increase our faith.
Kevin R. Beck's tag cloud