K.B. Lacoste
Biography
K.B. Lacoste is an author, poet and pet lover from Louisiana. A self-professed workaholic, she tries to balance her quest for a Ph.D. with work, travel, writing about pets and visiting her local shelter as often as possible. Her love for writing and animals started at a young age with cats, dogs and many frogs.
Where to buy in print
Books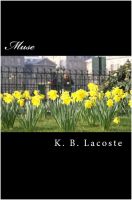 Muse
by

K.B. Lacoste
The first collection of poetry from K.B. Lacoste focuses on individually-inspired pieces. Each poem celebrates the intimate feelings and thoughts inspired by someone that has touched the author's life. Humor, sadness, romance, and fear are all present in this original collection with accompanying photographs.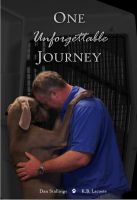 One Unforgettable Journey
by

K.B. Lacoste
Dan was a traveling business man when a twist of fate pulled him off the road. An unexpected meeting with a puppy captured his heart, and before he knew it he was running a rescue for Weimaraners. An ad for a Weimaraner show dog caught his eye, but upon their meeting Dan was horrified at the dog's condition. Little did he know, the dog would be the one taking Dan on an unforgettable journey.
K.B. Lacoste's tag cloud