Katharine B. Soper
Biography
Kate has been fascinated by the pilgrimage to Santiago since she first walked the Camino francès from Saint-Jean-Pied-de-Port, France, to Santiago de Compostella, Spain, at age 57. Steps Out of Time: One Woman's Journey on the Camino is based on the journal she kept during that life-changing journey.

Since her first pilgrimage, Kate has returned to Europe several times to walk other pilgrimage trails to Santiago. Most recently, in the summer of 2017, she walked the Camino Portuguèse from Lisbon to Santiago. She continues to deepen her understanding of pilgrimage by serving as a volunteer hospitalière at the Pilgrim Welcome Center in Saint-Jean-Pied-de-Port (2009, 2010, and 2011) and at a Monastery in Conques, France, that has welcomed pilgrims to Santiago for centuries (every October since 2015).

There's so much more to say about the Camino! For some of Kate's thoughts, go to www.crazywisdomjournal.com and search for "Creature Comforts on the Camino," "Danger on the Camino," and "Been There, Done That?"

Kate is now retired from an administrative position at the University of Michigan. She has also worked as a French professor, an attorney practicing divorce law and insurance defense law, a divorce mediator, and a writer and editor at the Institute of Continuing Legal Education in Ann Arbor. Earlier in life, she supervised line-walkers on the Alaska pipeline, guided student tours to France and Spain, and taught English to mid-level executives in Bogotà, Colombia, and to air traffic controllers at the Bordeaux International Airport.

She and her husband Philip live in Ann Arbor, Michigan. They have two children and two grandchildren. Write Kate at stellairepress@gmail.com with your questions, comments, and thoughts. ¡Buen camino!
Books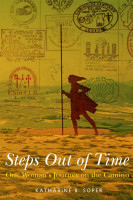 Steps Out of Time: One Woman's Journey on the Camino
by

Katharine B. Soper
Steps Out of Time is a deeply reflective memoir on aging and the pace of modern life as seen through the eyes of a fifty-seven-year-old wife, mother, and professional who worries that her recently diagnosed medical conditions might prevent her from accomplishing her goal.
Katharine B. Soper's tag cloud