Karen Casebeer
Biography
I grew up in southwestern Michigan and graduated from Western Michigan University, where I studied writing with Ken Macrorie. I taught secondary school English and Latin for twenty-five years in suburban Kalamazoo. After retiring from teaching, I returned to WMU to obtain my doctoral degree in Counselor Education and Counseling Psychology. I practiced as a licensed psychologist in Kalamazoo for another 14 years. I currently teach social science at Davenport University.

Writing has always played an important role in my life: keeping a journal, writing professional articles, helping students become authentic writers, and writing college papers and a dissertation. But writing a novel didn't start until I moved to Northwestern Lower Michigan. There, my love of the Northwoods, crime fiction, and psychology all came together with my first novel Culpable.
Books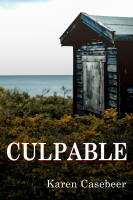 Culpable
by

Karen Casebeer
Murder is unheard of in this quaint Northwoods village on the shores of Lake Michigan, but when Miles Connor dies unexpectedly, an autopsy concludes he was poisoned. Lakeland County Sheriff Edward Robbins begins an inquiry and narrows his probe to two dissimilar suspects. As the story rushes to a conclusion, Robbins and the characters grapple with questions of justice, retribution, and redemption.
Karen Casebeer's tag cloud