Keith Robert Maddock
Biography
Keith Robert Maddock obtained degrees from the Toronto School of Theology in Religious Education and Pastoral Theology, before becoming a Friend in Toronto Monthly Meeting. He served for twenty years as a volunteer chaplaincy visitor at the Toronto (Don) Jail until it closed down in 2014, and also worked at the Salvation Army Hope Shelter for homeless men. He has represented Friends on the Church Council for Justice and Corrections, the Ontario Multifaith Council for Spiritual and Religious Care, and the Alternatives to Violence Project. Currently he has also been serving as a volunteer spiritual care provider at the Centre for Addiction and Mental Health in Toronto. He is the author of a Pendle Hill Pamphlet (No. 342) entitled "Beyond the Bars: a Quaker Primer for Prison Visitors" and numerous essays on poetry, spirituality and pastoral care.
Books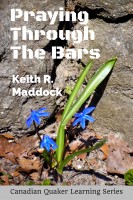 PrayingThrough the Bars: A Pastoral Testimony For Prison Visitors
by

Keith Robert Maddock
Keith R. Maddock has many years of experience in prison visitation and has been involved in several justice organizations. Here he gives practical suggestions as to specific conversational openings and how and when to explore questions of faith and spiritual testimonies. Finally, his writing is an encouragement to those who would take on this important ministry.
Keith Robert Maddock's tag cloud