Kelly Henderson
Biography
Kelly Henderson is a pagan parent raising two beautiful children (and two smelly but loveable old dogs) in a household full of creative imagination and mythical creatures. From Basilisks to Unicorns (and all the ones in-between), not a day goes by that some touch of the mythically spiritual enters into the common lives of those residing within. This is Kelly's first branch out into writing for the benefit of others and passing the knowledge and creative experience from word of mouth to words on page. The chord has been struck, now, and Kelly is already hard at work on the next book and leaves us with the counsel that, while here there be dragons, who knows what comes next.
Where to find Kelly Henderson online
Books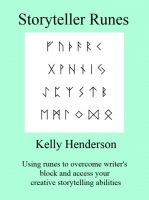 Storyteller Runes
by

Kelly Henderson
Using runes to overcome writer's block and access your creative storytelling abilities.
Kelly Henderson's tag cloud