Ken Ellis
Biography
Ken Ellis was born and grew up in the small North Central Texas town of Mexia. He holds a business degree from Abilene Christian University and received his MBA from Southern Methodist University. His business career was spent as a contract negotiator with several of America's largest corporations and involved worldwide travel. He and his wife, their young son of four years, and their newborn daughter, moved to Saudi Arabia in the early 1980's and lived in the Eastern city of Dhahran for seven years where he was contract manager for the Saudi Consolidated Electric Company. He is retired from the Saudi Arabian Oil Company. Ken is a fifth generation Texan. His great- great-grandfather, George T. Wood, was the second governor of Texas from 1847 to 1849 and was a regimental colonel in the Mexican War. Ken enjoys writing, photography, sail planing, and working with his church. He and his wife live in Lebanon, Ohio so they can more easily dote on their three grandchildren.
Where to find Ken Ellis online
Books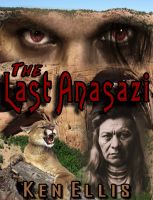 The Last Anasazi
by

Ken Ellis
In the late 1200's, except for one man, the Anasazi Indians mysteriously disappeared from what is now known as Mesa Verde National Park in southwestern Colorado. Now 700 years later David Longbow still questions what happened to his people and his wife and son. Evil lurks on the mesa as a demon from the underworld leads a zombie force to end David's life and retake the area from the white man.
Ken Ellis' tag cloud