Ken Farrell
Biography
Kenneth G. Farrell, P. Eng, C. Eng, civil engineer, was born and educated in Kingston-Upon-Hull, England, and emigrated to Canada in 1954. As a highway engineer he worked on construction of the Trans-Canada Highway through the Canadian Rockies. In 1962, as a design engineer survival structures with Public Works Canada, he attended the Nuclear Engineering Department of the University of Kansas for special training in nuclear defense planning. A Graduate of the National Defense College of Canada, he was director of Emergency Preparedness, Public Works Canada, until his retirement from the federal public service. He was commissioned earlier in the British Territorial Army, and later in the Canadian Militia, spending many years with the Royal Regiment of Canadian Artillery.
Where to buy in print
Books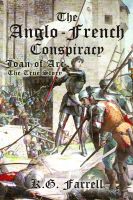 The Anglo-French Conspiracy
by

Ken Farrell
As the sun rose on the 7th May 1429, Joan felt that her whole life had been in preparation for the epic event that was about to unfold. The day before, she had directed her confessor to stay close to her on the morrow, as blood would flow from her body.
Ken Farrell's tag cloud