Ken Kottka
Biography
I was born in Chicago and left home at sixteen. I forged a birth certificate and joined the Air Force for four years. I realized I had to have an education to survive, and my GED got me into the University of Oklahoma. I managed to work my way through school, and graduated with a BA in English. I was recruited out of college by the Government, and after a two year training period found myself in South Vietnam. After surviving the TeT Offensive in 1968, I decided to leave the Government and go back to school to earn a Ph.D. During this time, I taught as a TA and wrote short stories, poetry and one novel, all of which my first wife destroyed in what I refer to as the Great Bonfire of 1972. My marriage broke up, I had to find employment to pay child support and went into a training program with NASA for government contracting. I left NASA after completing the program and went to work in private industry, eventually having my own company in partnership with a gentleman in Dallas. I retired six years ago and began teaching English again and writing again, my two vocational loves. I have published one novel about my return from Vietnam and time in graduate school. I am remarried to a wonderful woman and have a nine year old daughter who is an absolute joy.
Where to buy in print
Books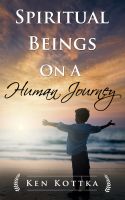 Spiritual Beings on a Human Journey
by

Ken Kottka
The characters in these writings strive for or are about to experience transcendent mysteries. The short stories depict love, loss, and redemption using a sprinkling of magic and desire, the musings supply comic relief through laughter at a few of life's challenges, while the memoirs are a mixture of joy, pain, and hope. All the writings illustrate the possibilities that surround us.
Ken Kottka's tag cloud