Ken MacGregor
Biography
Ken MacGregor's work has appeared in over fifty anthologies, magazines and podcasts. Ken is a member of The Great Lakes Association of Horror Writers and an Affiliate member of HWA. You can find Ken on Amazon, Goodreads, Facebook, and at ken-macgregor.com. Ken's the kind of guy that, if he found himself stranded somewhere with you, would probably eat you to survive. Ken hopes you enjoyed the stories in this collection and that you sleep just a little less well because of them. Ken lives in Michigan with his family and two unstable cats.
Where to find Ken MacGregor online
Books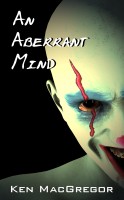 An Aberrant Mind
by

Ken MacGregor
ABERRANT is defined as unusual, abnormal or different. The stories in this book not only differ from most of what you read, but also wildly from each other. A retired school teacher takes on an elder god and his minion; a werewolf picks fights with sea creatures; a neighbor's lawn may be eating people. Twenty-two stories: scary, funny, weird and different.
Ken MacGregor's tag cloud