Ken Henderson
Biography
Hockey enthusiast, Superhero superfan, SciFi nerd, Bulldog lover, Cereal obsessive, David Fincher fanatic, Arcade Fire devotee, David Foster Wallace mourner, Ray Kurzweil follower, Author of the Cannibal Collapse Series. Kenneth Ward lives in Alberta, Canada.
Where to find Ken Henderson online
Books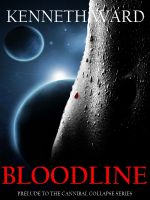 Bloodline: Prelude to the Cannibal Collapse Series
(5.00 from 3 reviews)
All of humanity celebrates when a small crew is sent to investigate a distant planet believed to have the same potential for intelligent life as their own. What begins as a mission carrying the hopes of an entire race becomes a fight for survival when trust is betrayed, and hunger forces the men and women aboard the Synark to confront the unthinkable.
Ken Henderson's tag cloud