Kennard Sproul
Biography
Dr. Kennard Sproul is now in his "fourth career." He served in the United States Air Force and the Indiana Air National Guard for 25 years. He was a family physician and emergency room physician in central Indiana for nearly 20 years. He then served in 5 different countries overseas as a long-term (6 months to 1 year) volunteer/missionary physician. Now he is "back home again" in Indiana teaching Human Anatomy and Physiology for an online university, home schooling his oldest grandson, tutoring other children, and helping whoever he can whenever he can. His second book, which describes many experiences he had working in Africa, Haiti, Central America and South America. If you go to Facebook and search for "Ken Sproul", you can see many, many photos of his military life and of his year spent in Ethiopia. He is writing his third book now and hopes that he is able to complete it before the Lord calls him home.....
Books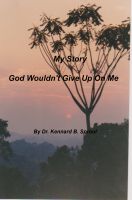 My Story - God Wouldn't Give Up On Me
by

Kennard Sproul
(5.00 from 5 reviews)
This is a story of my life...how I became a very successful family physician, how I became an addict, how I crashed to the very bottom...and then how God saved me by allowing the Holy Spirit to come and live in me.
Kennard Sproul's tag cloud