Daniel G. Keohane
Biography
Dan's Bram Stoker-nominated first novel, Solomon's Grave, was released in 2009, after being previously published in Germany and Italy. His short stories have appeared in such magazines and anthologies as Cemetery Dance, Shroud Magazine, Apex Digest and many others. He and his children live in New England.
Books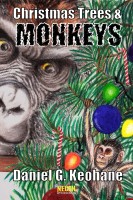 Christmas Trees & Monkeys
by

Daniel G. Keohane
This collection (the first from Dan Keohane) includes four original stories and a brief introduction to each tale. Plus, here's one more reaon to purchase this title (straight from the author himself): "As with the print edition, 100 percent of all author royalties earned from the sale of this collection are being donated to the New England Multiple Sclerosis Society, in honor of my sister Anne.
Daniel G. Keohane's tag cloud