Kera Washburn
Biography
Kera Washburn is a stay-at-home mom to three beautiful redheaded children, each with a unique diagnosis: Julianna, autism spectrum; Blake, mastocytosis, a rare blood disorder; and Nathan, cleft palate. The first decade of her motherhood journey was spent at countless doctors, therapists, and specialist for her kids. Now, armed with knowledge, compassion, (and a little extra time on her hands) Kera writes about her experiences on her blog, The Special Reds. She hopes to end the stigma related to disabilities, disorders, and birth defects, and to find other parents on a similar path, because no special needs parent should do this alone. When she graduated in English in 2004, she had no idea what role writing might play in her life, but she knows now that her children are her greatest inspiration. Her work has been featured on Firefly Friends, Huffington Post, Power of Moms, The Mighty, and Washington Post. She lives in Southern California with her husband, Joel, who is a high school English teacher.
Where to find Kera Washburn online
Books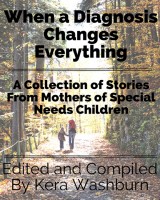 When a Diagnosis Changes Everything: A Collection of Stories from Mothers of Special Needs Children
by

Kera Washburn
Eleven incredible mothers share their children's diagnosis stories. Though each one is vastly different, one thing remains: a diagnosis changes everything.
Kera Washburn's tag cloud