Kerry Frey
Biography
Kerry Frey has worked in the Aerospace and Defense Industry for more than thirty years, has been an Elder/Children's Minister in the Independent Christian brotherhood for two decades, and is currently the Director of the Adventure Writer's Competition sponsored by the Clive Cussler Collector's Society. Kerry lives in Fort Worth, Texas with his wife Carol, where he can either be found at church with his wife and a bunch of kids, on the golf course with friends, or at his computer writing the next Ace Roberts adventure.
Books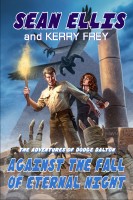 Against the Fall of Eternal Night- A Dodge Dalton Adventure
by

Sean Ellis

&

Kerry Frey
A malevolent entity, bent on destroying the world which has become its eternal prison, seeks an ancient relic… a relic with the power to tear down the walls between worlds. Dodge races across the globe, battling Nazi agents and deadly winged assassins, but to defeat the enemy he will have to make a terrible choice: Sacrifice the love of his life, or watch the world fall into eternal night.
Kerry Frey's tag cloud