Kevin Anglade
Biography
Kevin Eleven, whose real name is Kevin Anglade, was raised in the Queens borough section of New York City to Haitian immigrant parents. He published his debut novel Tales of the 23RD PRECINCT through his independent publishing company, Flowered Concrete in January of 2013. In spring 2014, he graduated from Brooklyn College with a BA in English while concentrating in literature. Locally, he has been covered in publications such as Brooklyn Buzz and DNA INFO (New York). Moreover, in May of 2014, he was featured on NBC's final season of The Debrief with David Ushery as he spoke upon his indie press, Flowered Concrete, and its endeavors as an up-and-coming small publisher. When not writing or fulfilling Flowered Concrete related duties, Kevin usually likes to spend his down time reading, playing basketball, listening to music, performing poetry at lounges/cafes throughout NYC or spending time learning about life and nature as much as he possibly can. He often dreams about being one of the most revered and as well as acclaimed writers to ever endure and live within the realms of the twenty-first century.
Where to find Kevin Anglade online
Books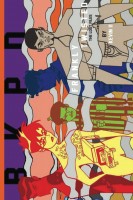 frankly TWISTED: the lost files
by

Kevin Anglade
You might think you know the cops of Brooklyn's 23rd Precinct. You don't. And neither do they. When a drug runner is murdered behind bars, Parkside Avenue's finest are on the case. But the detectives are trapped in a blind alley. And it's one of their own leading them astray...
Kevin Anglade's tag cloud