Kevin Wetmore
Biography
Kevin Wetmore is an award-winning writer whose short fiction has appeared in such anthologies as Midian Unmade, Whispers from the Abyss 2, Urban Temples of Cthulhu, Winter Horror Days, and Enter at Your Own Risk: The End is the Beginning, as well as such magazines as Mothership Zeta, Weirdbook and Devolution Z. He is also the author of such books as Post-9/11 Horror in American Cinema and Back from the Dead: Reading Remakes of Romero's Zombie Films as Markers of their Times. Check out his work at www.SomethingWetmoreThisWayComes.com and follow him on Twitter @HauntedKevin.
Where to find Kevin Wetmore online
Books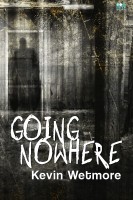 Going Nowhere
by

Kevin Wetmore
Stuck in the same small Connecticut town that's held him back since birth, Eddie feels like he's going nowhere… until the prospect of making some easy money lures him out to the 'party house' in the woods after dark.
Kevin Wetmore's tag cloud