Keith Faigin
Biography
Keith Faigin grew up in Ithaca, NY and has lived all around the United States including such places as Chicago and Atlanta. He received degrees in Computer Science from Williams College and the University of Illinois. Currently, he resides in the Detroit area with his family and two dogs. Keith is an improvisational comedian on the resident cast of Go Comedy! Improv Theater in Ferndale, Michigan (www.gocomedy.net) and can be seen performing there several weekends a month. He has also been known to do some stand-up (winner of the "Funniest Man in Peoria, IL" contest in 1994!) and is one of the producers of the Detroit Improv Festival (www.detroitimprovfestival.org). His day job is most frequently described as 'nerdy'. When Keith set out to write his first book, he had one goal in mind: to entertain. Sometimes some deeper ideas sneak into his work but that is never intentional and certainly never the focus. "I want my books to be the ones that you can't wait to take on vacation with you or the ones that you read to forget about your real-life stress for a little while. I don't expect anyone to be forcing themselves through my book because book club meets next week. Well, unless you have a really big book club, in which case I will come be a guest speaker if it means a couple dozen quick sales. I've got basically no promotion budget, you know." He can be reached at keith@nickslipwick.com.
Where to find Keith Faigin online
Books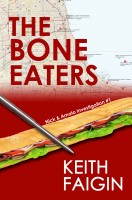 The Bone Eaters: Nick & Amato Investigation #1
by

Keith Faigin
While investigating a rash of Frankenstein-style reanimations, an overly-inquisitive private investigator Nick Slipwick and a seen-it-all cop, Lieutenant Amato, unravel the mysteries of a secret society of monsters living among the rich and powerful of Detroit. The Bone Eaters combines multiple genres and familiar tropes into a comedic mash-up with plenty of heart.
Keith Faigin's tag cloud