Kim Fowler
Biography
Kim R. Fowler is a Vietnam Veteran, a devoted father of two children (Eric and Stephanie), and has been faithfully married for over 41 years. He is an avid reader and a computer guru. Kim studied anthropology extensively, as well as, history, science, mathematics, philosophy, and sociology. Kim started writing fiction later in life, after he retired from a long and successful career.
Books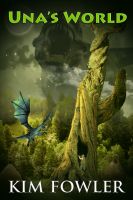 Una's World
By
Kim Fowler
Price:
$2.99 USD.
Words: 103,200. Language: English. Published: November 4, 2012. Category: Fiction
Novel. Science fiction fantasy. Tom finds a portal on his property that takes him back in time to the Pleistocene period. Tom encounters dinosaurs and neanderthals, plus finds action and adventure.
Kim Fowler's tag cloud