Karen Herndon
Biography
Karen D. Herndon, ED.D has been a classroom teacher, University professor specializing in social studies and multicultural aspects of education, Director of a Teacher Education program at the University of Colorado Denver, Director of Staff Development in a large metropolitan school district, and Dean of Academic Affairs at University College, University of Denver. Early in her career, a visit to Rough Rock School in the Navajo Nation led to her deep commitment to teaching about American Indians with historical and cultural accuracy. Working closely with Indian people, she has been a consultant to the Department of Indian Indian Education in Denver Public Schools, writing curriculum including units on the Powwow, Thanksgiving, From the Beginning (American Indian history) and course syllabi. She has also been a consultant to the Denver Indian Center on educational issues. Some of her books for educators include Indian Country, How To Teach About American Indians, and American Indian voices. She has also reviewed approximately 75 new books about American Indians for ARBA/Libraries Unlimited, INC. Semi-retired, she lives in Colorado with a big, black dog and two tabby cats.
Books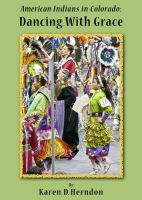 American Indians in Colorado: Dancing With Grace
by

Karen Herndon
Follow Grace, a Cheyenne fifth grader, as she prepares for a powwow dance competition and along the way learns about her people. Aimed at intermediate students and teachers, this history honors American Indians and comes alive for today's youth. The book shows how decisions made in the past shape the present, and challenges students to think about how their own decisions will shape the future.
Karen Herndon's tag cloud