K.D. Kromminga
Publisher info
K.D. Kromminga has written internationally for two and a half decades. His ebooks are available in four languages. In 2012 he opened Asgardis Publishing www.asgardis.com as both a Indie Publishing House and Indie writers community with online collaboration tools and an online and download distribution networks. He is currently working on two novel Projects, the "Seraphs Call" (Godmakers #1) series with N.A. Spells, and his first English language solo effort "The Monster who Would be Queen"(Monster Bytes #1). His future planned projects are an EPIC fantasy called the "Wanderer"(Chaos Unity #1) with D.J. Tjarks, and solo "What is Death Among Enemies?"(Casefiles of Dani Spieler #1).
Where to find K.D. Kromminga online
Books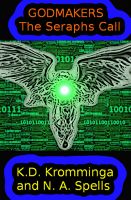 Seraphs Call(Serial 1of7)
by

K.D. Kromminga
In 2033 the world will descend into chaos A leader will come who will infect half the world with evil the other half with death and we will thank him for it and beg him to rule our world. A hope for the future... A Son and mother, entrapped by the schemes of a powerful man. One will wage his war through science, the other will be forced to build a machine for war. They are the hope that remains...
K.D. Kromminga's tag cloud