Kianu Stern
Biography
It is imperative that you the reader focus on the message rather than on the messenger. The content of my books has either been transferred to me or instructed to me by the ONE who does not have a name. I do always try my best to keep the writings short and to the point, however since I am not a writer by trade, it will be more beneficial to you to focus on the content rather than my writing skills. The covers of my books are all original paintings painted by myself by the order of the nameless ONE.
Books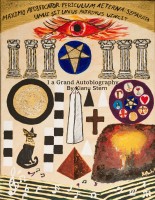 I a Grand Autobiography
by

Kianu Stern
I do not have a father or a mother but I am not an orphan either.
Kianu Stern's tag cloud