K. J Forte
Biography
K.J. Forte is British born of Caribbean parentage and read for her Masters Degree in Mass Communications at the University of Leicester, UK. She loves travel, reading, food, wine and discovering the cultures of other peoples. When not writing in her profession as a medical journalist, she enjoys family, travel and her cat Dame Pudding Muffin. She lives between Barbados and London.
Books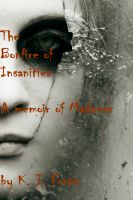 The Bonfire of the Insanities - A Memoir of Madness
by

K. J Forte
Once beautiful and bright, Grace McQuail was sure that she had a great future as a writer in London and New York. That was until time slowly began to eat away at her every dream. Her husband despised her and beefore long she questioned her sanity and so did her therapist. Her imagination ran wild but was her state really insanity or the twisted plot of her husband and therapist?
K. J Forte's tag cloud