Kim Bauer Hill
Biography
One of the most precious contents I received from the sender of my suitcase was given to me so many years ago when my name was Kimberly Joann Bauer, daughter of Dave and Donna Bauer. I spent most of my childhood and teenage years growing up in Mooresville, Indiana and attending Monrovia elementary, junior/ senior high schools. I graduated in 1978.

Approximately 20 years later, I realized I had a gift that was still brand new because it had never been used. So, here it is 2011 — I finally unwrapped the tissue paper and wrote this book as the sender intended for me to.
Books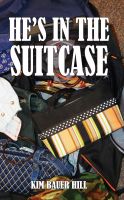 He's in the Suitcase
by

Kim Bauer Hill
My journey as explained throughout the book begins in the late summer of 1994, as I became an expectant mother. By the time I was writing the final chapter, the suitcase in my story became my strongest accountability partner. Knowing if I was going to write it, I had better be living it!
Kim Bauer Hill's tag cloud