J. Todd Kingrea
Biography
J. Todd Kingrea is a full elder in the United Methodist Church, and is serving his third appointment in twelve years of ministry. Since being ordained in 2000, Todd served as youth pastor and associate pastor at a 1,200-member congregation. He has also provided effective leadership for two smaller, traditional congregations, helping both take significant steps in change and transformation. Todd is married to Felicia and they have two sons, Brett and Matthew.
Where to buy in print
Books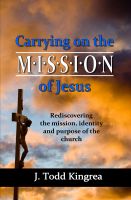 Carrying on the Mission of Jesus: Rediscovering the Mission, Identity and Purpose of the Church
by

J. Todd Kingrea
You go to church for worship. You sing the songs. You drop your offering or tithe in the plate. You listen to the sermon. And you go home much the same as when you arrived. Maybe for you, the two hours you spend in church every week feels like two hours of your life wasted. Church is just an institutional ritual, far from the dynamic, prayerful, powerful church of the New Testament.
J. Todd Kingrea's tag cloud