Seven
Biography
More about Seven in his own words:

I am writing this while sitting at a beautiful beach on the island of Koh Samui Thailand, also known as the Hawaii of the east.

I look up at the palm tree in the horizon feeling like the luckiest man in the world. A smile appears on my face as I think back to what my life was like a few years ago...

It was 2008. The American economy was in ruins, unemployment was skyrocketing, and my sales job was going down the toilet. I was earning less than 20% of what I was making the year before and things were getting worse. I was working 60 hours a week making less and less money each month.

On payday I looked down at my paycheck and laughed...

I had enough!

I quit my job, sold my car, and moved all my belongings into storage.

I bought a ticket to Thailand where I always dreamed of training in Muay Thai Kickboxing from the country where it all started.

I boarded a plane one month after I quit my job, ready to start my new life.

It's been four years since then, and I've never looked back with regret.

Now I live in Thailand. I stay in a nice apartment. I go swimming in the warm ocean water three times a week. I get an hour massage on the beach for six dollars. I eat at 4 star restaurants whenever I want. And I have my choice of beautiful women.

The best part is...I do all this for less than $1,500 a month.

And so can you!
Books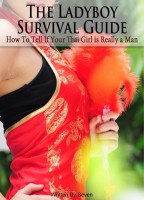 The Ladyboy Survival Guide - How To Tell If Your Thai Girl is Really a Man
by

Seven
VISIT OUR WEBSITE: www.GodsofThailand.com This guide is separated into two sections. The first will consist of 3 real stories where men have hooked up with a lady boy in Thailand without realizing it. The second section will give you the knowledge to protect yourself so you don't become yet another victim of the infamous Thai Ladyboy.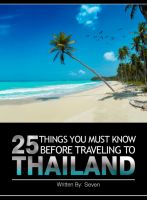 25 Things You MUST Know BEFORE Traveling to Thailand
by

Seven
The idea behind this book is a simple one, "What are the 25 things I wish I knew about Thailand before arriving for the first time." The book may be short, but it answers this question in a useful and practical way without any fluff.
Seven's tag cloud