Hartzell DeHay
Biography
KIP HARTZELL is a certified Airframe and Power plant Mechanic who has worked in the commercial aviation business for 20 years. He has also worked for over 20 years in the entertainment business as a stagehand in his hometown of Las Vegas. His experience as a Stage Carpenter, Electrician and Rigger has been utilized in many shows and concerts.
Kip's hobbies include: boating, snow boarding and science fiction. He was inspired to write the ATLANTEAN CHRONICLES after his father dictated a fantastic story from his deathbed.


THOMAS R. DeHAY was born in Texas and has been an avid science fiction reader, fan and collector since he was 10. At 19 he joined the Air Force and worked as a Crew Chief Mechanic on fighter jets including the F-117 Stealth Fighter.
He earned an Associate Degree in Applied Science in Aircraft Technology. He is a certified Airframe and Power plant mechanic and has worked in the civilian aviation business for 20 years.
He presently lives in Las Vegas, Nevada with his wife and 4 sons. THE ATLANTEAN CHRONICLES is his first novel.
Books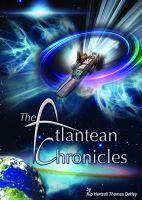 The Atlantean Chronicles
by

Hartzell DeHay
(5.00)
An inspired sci fi story told to me by my father on his deathbed. The true story of Atlantis and the origins of mankind.
Hartzell DeHay's tag cloud