Brian Kirby
Biography
Brian Kirby - Biography

Born in London, Brian's education culminated with five years at Hornsey College of Art. Early years (this was the silly sixties) included an overland trip by London Taxi to the Far East and ultimately, Australia. With a US partner, he created a cartoon strip for the Sydney Sun Herald, the London Daily Sketch and ultimately the Chicago Tribune/New York News Syndicate.

He has worked as a designer and Creative Director in London, Sydney, Barbados and Perth. The years in Barbados were spent establishing a London-based design company but in that period he also became a member of the Barbados Arts Council, designer with the Barbados Dance Theatre and initiated design classes at the University of the West Indies.

As a painter, Brian has had seven one-man exhibitions and been included in group shows that include the Biennales of Sao Paulo (Brazil) and Medellin (Columbia).

In 1984 he became Senior Lecturer at the West Australian School of Art, Design and Media (Perth), working in graphics and film & television and in this latter role, began to write. A novel (Up The City!), a magazine column and a number of film treatments (all unsuccessful) led to The Personal Column and its follow-up, Classifieds.

He played first division football in Barbados and Australia and was technical advisor to the award-winning TV series Kicking Around.

He lives and works in Western Australia with his wife of 48 years, his two children and three grandchildren.
Books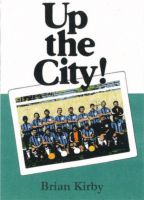 Up The City!
by

Brian Kirby
Price:
$2.99 USD.
Words: 101,870. Language: English. Published: September 21, 2011. Categories:
Fiction
»
Sports
How many people get to re-live the most important year of their lives? In 1975 Ted Lewis had two big problems on his hands, his marriage and his soccer team and both seem to be going to the dogs. Up until now he has found himself unable or unwilling to do anything about either of them but suddenly he is presented with an ultimatum on both fronts.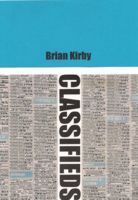 Classifieds
by

Brian Kirby
When I published my first book (The Personal Column) I was asked for more of the same and this is the result. Here then are more stories of what can happen when you place or respond to an advertisement in the Classified section of a newspaper and of course, it's not always what you expect. Romance and drama seem to happen in the unlikely company of the second-hand cars, obituaries and personals.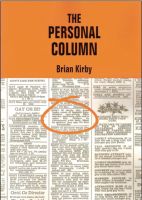 The Personal Column
by

Brian Kirby
The Personal Column of a newspaper is a cross-section of humanity - young and old, rich and poor, male and female. With varying degrees of desperation and success they seek a friend, a lover or even a partner for life. In these stories we meet the people who place and respond to the ads. What occurs when they meet isn't always what they expect but each in its way is a love story.
Brian Kirby's tag cloud