Kirsten Hamilton-sturdy
Biography
I have been writing pretty much since I could hold a pen or pencil, although my English teacher did say I should become a doctor as my calligraphy skills were so awful. However thankfully when she could decipher it she was very encouraging. This has lead to me writing when ever I could, about what ever I could.

It tended to result in writing travel, children's stories or sci-fi.
I was a runner-up in the Travel-ex writing competition 1999, and on the long list for the Bradt travelling writing competition 2011. I received a Letter of Recommendation for the children's Waterstones WOW competition 2005. And then I managed to make it through to the 2nd Quarter of the L. Ron Hubbard Writers & Illustrators of the Future contest 2011.

I have written several children's stories: such as The Tree of Dreams (available on Amazon) and an Arabian fairy tale, Salim and the Jinn fish.

Lady on a laptop is my first online publication and I hope you all enjoy it.
Although I am a 40 something this is not autobiographical!!! Honest. Just a diary of a rich bored housework trying to come to terms with her age and stage in life!!

I hope to upload the next 3 parts of Lady on a Laptop by the end of 2016, sorry for the delay!
Books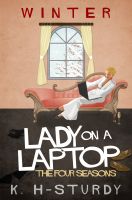 Lady on a laptop, winter
by

Kirsten Hamilton-sturdy
Sex, boredom and cupcakes - that's life for most of us but not necessarily in that order! Lady on a laptop (Winter), is a stream-of-consciousness letter about the life of a well-to-do middle class, middle aged woman. Surely everything is perfect in Paradise?
Kirsten Hamilton-sturdy's tag cloud