Hassan Ali
Publisher info
Hassan Ali, founder of http://kitaabghar.com website, which is online urdu books library serving urdu books, novels, and dramas to global urdu reading community for last 12 years (since 2004). kitaabghar.com is also eBooks publisher from Lahore, Pakistan.
Where to find Hassan Ali online
Books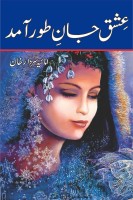 عشق جانے طور آمد (Ishq Janay Toor Amad)
by

Hassan Ali
Price: Free!
Words: 74,560.
Language: Urdu.
Published: May 3, 2016
. Categories:
Fiction
»
Romance
»
General
(5.00 from 1 review)
عشق جانے طور آمد ایک سماجی رومانی ناول ہے جس کی مصنفہ امایہ سردار خان ہے۔ یہ ناول محبت جیسے خوبصورت جذبے کا ترجمان ہے۔ یہ ناول عارب وقار خان اور انا احد خان کی خاموش اور قدرے پیچیدہ محبت کی کہانی ہے جس میں دونوں اپنے دلوں کی آواز سن کر سمجھنے کی کوشش کر رہے ہیں۔ پاکستانی کلچر اور خاندانی اقدار میں لکھا گیا یہ خوبصورت ناول آپ کو مدتوں یاد رہے گا۔
Hassan Ali's tag cloud