Kiya Stronghold
Biography
Triple-X Sign is Kiya's first published story.
She is undertaking a Bachelor in Communications at Griffith University whilst working in IT support.
In her free time, she writes stories, creates digital art and lazes around her Bali style pool reading dark fantasy and savoring exotic coffee.
Books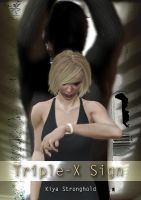 Triple-X Sign
She was not in a place she should be, but why? Why continue to exist amongst unsavory life and stare at stores of fornication as if they were adorned with Marcs & Spencer cashmere sweaters and La Deluci classic gowns?
Kiya Stronghold's tag cloud