K.J. Quint
Biography
K.J. Quint believes everyone has a story to tell. Quint was born and raised in Woodbridge, Virginia, and has always had a passion for writing tales of adventure, and particularly: humor. Humor is his weapon to conquer life's challenges. He loves a funny story, the sort you can get lost in. He views laughter as essential to life. Not just because something is funny, but just to express joy about life. We all go through trials and challenges, but laughter lets you enjoy life that much more. It gives you that wonderful, big feeling, you can only get through loving life, no matter what comes your way.
Series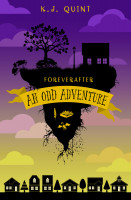 Foreverafter: An Odd Adventure
by

K.J. Quint
Audrey (she prefers Odd) lives in a perpetual state of boredom. She tries to keep busy with small jobs around town and by listening to stories of adventure from a boy in the travelling circus—her only friend Kite. But Odd has always had one thought in her head: I want to go on my own adventure.
Books
K.J. Quint's tag cloud