Danny Naten
Biography
This book, the story of Klara Iutkovits Wizel was compiled from numerous conversations between Klara and Danny Naten during the making of an award-winning documentary. They spent hours on the phone as well as in person talking since Danny wanted to know her story accurately to tell. The relationship they formed was much more than just professional, it was true friendship. Many times Danny paused in writing in order to absorb the horrific things that happened to Klara as he took time to find the words that would be felt in the way he wanted the reader to experience them. Although there are many wonderful and heroic stories of Holocaust survivors, Klara's survival and escape is unique. Perhaps the reason is her life story. Or maybe it is because he knew her personally. Randy Gifford came on to the project after seeing the documentary show at AOFIFF. The collaboration that ensued brought out a side of Klara, Randy and Danny that they had not known of before. Ultimately, Danny was heard to say that he realized that it was an undeniable privilege to meet and profile such courage.
Where to find Danny Naten online
Books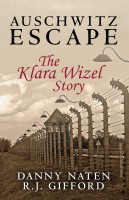 Auschwitz Escape - The Klara Wizel Story
by

Danny Naten
At the tender age of 16, Klara Wizel had a picturesque life with a loving and supportive family. There was no way to know that the Holocaust was creeping toward her and that soon this young Hungarian Jew would be fighting for her life due to the most notorious doctor of the 20th century, Dr. Josef Mengele. Hers is the only story on record of having been selected for death then escaping.
Danny Naten's tag cloud